Disclosure: *This post may include affiliate links. As an affiliate, I earn from qualifying purchases.


If you love fun food crafting (think cookie decorating, cake decorating, marshmallow art, cupcakes), then you'll need to find just the right decorating supplies. This post shares everything you need to know to find fun food and cookie decorating supplies.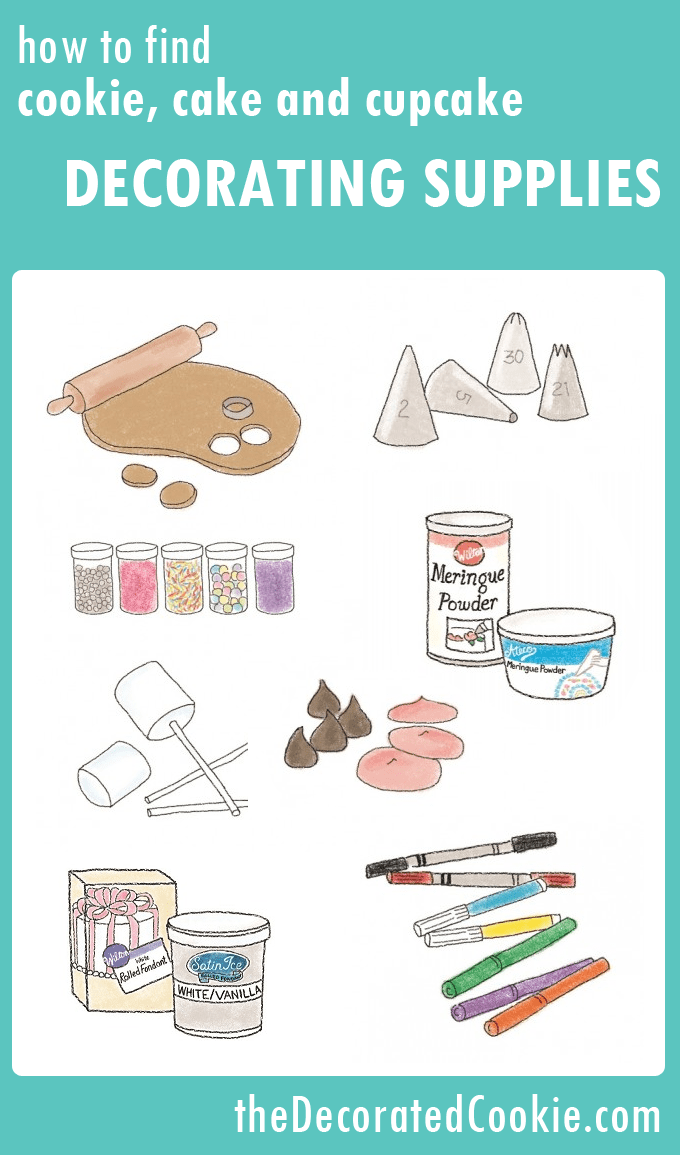 COOKIE DECORATING SUPPLIES
(And marshmallows, cupcake decorating, and cake decorating)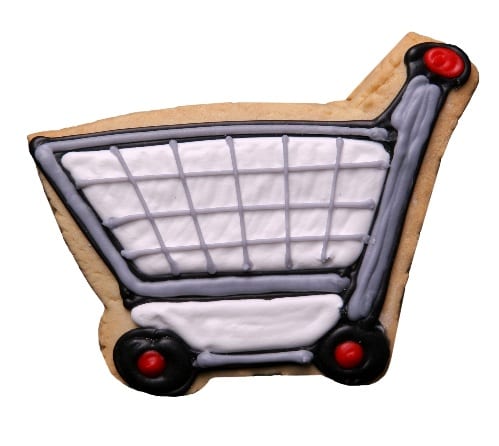 After three and a half years, I'm finally updating this page on where to find the best cookie decorating supplies. Yay! I also updated the amazon links to include my affiliate tag. (Which simply means THIS.) And I've added products from Craftsy, as I'm now a member of their affiliate program. (Which means I receive a commission for each referred sale.)
Finding cookie decorating supplies can be the hardest part of decorating cookies, marshmallows, cupcakes, cakes and other treats, because the right supplies can make the toughest tasks easier and the wrong supplies can give you unnecessary agony. But walking down the baking aisle of the craft store can give you fits of anxiety.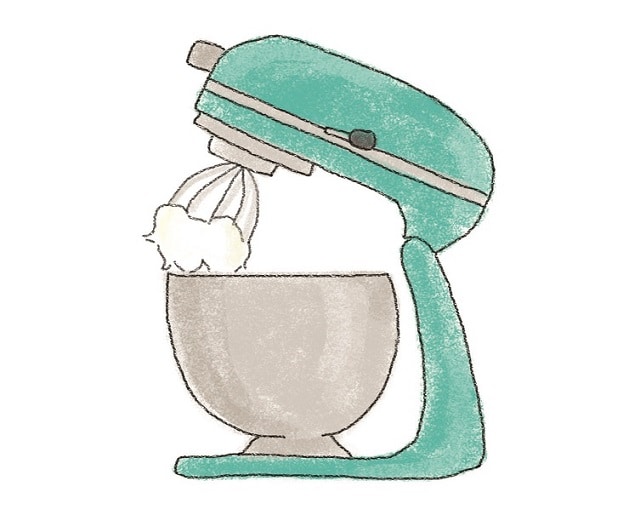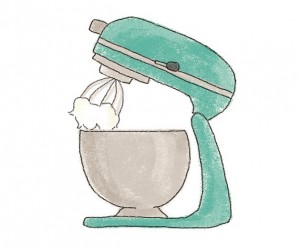 Find a super-duper comprehensive list of supplies and resources in my book (which I can only assume you all have, right?). But below is a close second. There are many other ways of doing things, so some of these may not work for you, but these are all my must-have, go-to tools and supplies.
All illustrations from Sugarlicious: 50 Cute and Clever Treats for Every Occasion.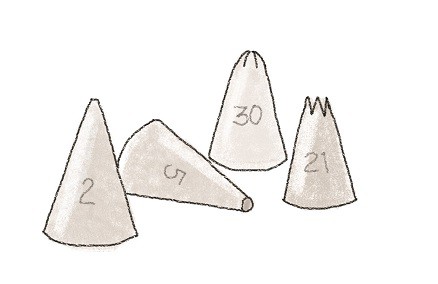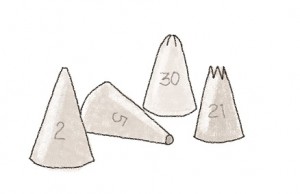 Wilton decorating tips.
Decorating tips control the icing or frosting as you squeeze it from the bag. For cookie decorating, I use round tips sizes 1, 2, 3, 4, 5, and 6. For cupcake decorating, I use either a large round tip, sizes 10 to 12, or the size 1M star tip. Find decorating tips in the craft store, online stores, at Wilton, or at Amazon.
Wilton 12-inch disposable decorating bags.
I love these ever so much and buy them in packs of 100. I use them for royal icing (cookie decorating), frosting (cupcakes), chocolate and candy melts (lollipop making), even pancake batter and other around-the-kitchen uses. Note, they also have larger bags for decorating cupcakes so you don't have to refill as often. Find disposable decorating bags in the craft store, online stores, at Wilton, or at Amazon.
Wilton standard couplers.
Use these in decorating bags if you will be switching tips on a color, usually for cookie decorating. For cupcake decorating, when using only one tip, I just stick the tip right in the decorating bag and omit the coupler. Find couplers in the craft store, online stores, at Wilton, or at Amazon.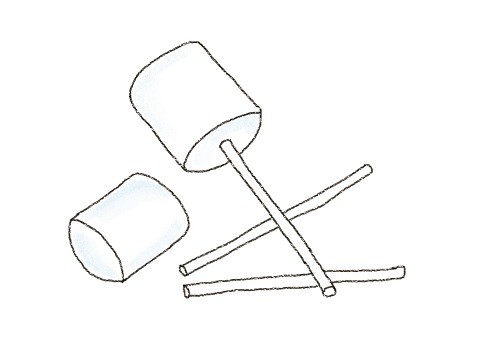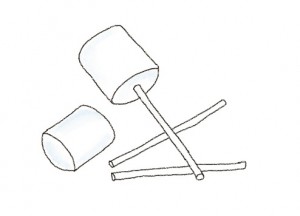 Lollipop sticks.
Everything is better on a stick. I use these for marshmallows, cake pops, candies, chocolate, and even cookies. Note, that Wilton does make cookie sticks that are considered safe for oven use. (Off the record, I use the lollipop sticks for cookie pops, because I like the smaller diameter. But these aren't recommended for oven use.) Lollipop sticks come in 4-inch, 6-inch, 8-inch and 12-inch. I use the 6 or 8 inch. Find lollipop sticks in the craft store, online stores, at Wilton, or at Amazon.
Food coloring.
I ONLY use Americolor Soft Gel Pastes. Only. Ever. You can buy concentrated pastes at the craft store, but I stick with online purchases of food coloring. The small, .75 ounce bottles will last a good while, but for colors I use a ton of, like Bright White, I buy the bigger bottle. Learn more about food coloring HERE. Find food coloring in specialty cake decorating shops, or find links to online shops to buy at Americolor OR they are also sold on amazon. NOTE: To add food coloring to white candy melts or white chocolate, you must use oil-based candy colors, NOT the regular gel paste food coloring.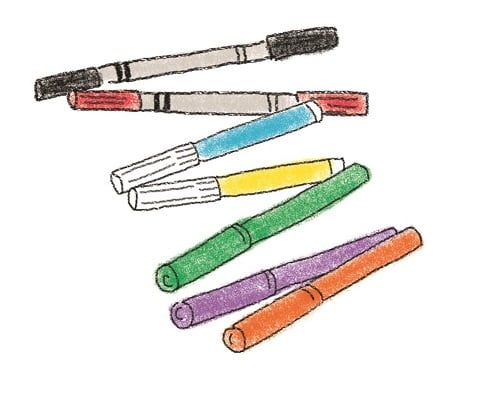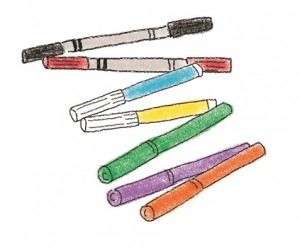 Food writers.
I LOVE my food writers, aka food coloring pens or markers. You can use these markers on cookies with royal icing that has dried overnight, on marshmallows, or on fondant. You can learn more about the brands out there in this post HERE on edible writers. My favorite food writers are the Americolor Gourmet Writers and the FooDoodler Fine Line pack of 10. You can find some food writers at the craft store, probably Wilton FoodWriters.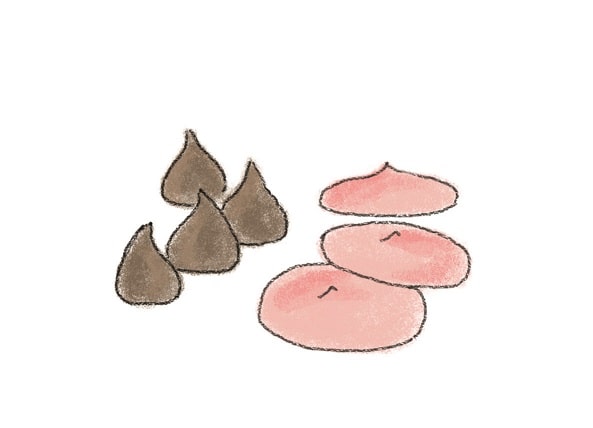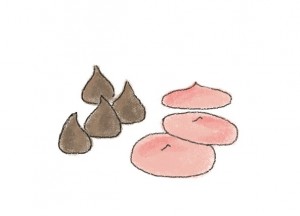 Candy melts and chocolate chips.
I melt these up in decorating bags and pipe on wax paper on a stick for instant lollipops. (My kid can make these, too.) Or, use candy melts for dipping cookies, marshmallows, cake pops, whatever. Note that the oils in these make it tough to use food writers on them, but it's sort of possible. Find candy melts in the craft store, online stores or at amazon. Chocolate chips are at your supermarket.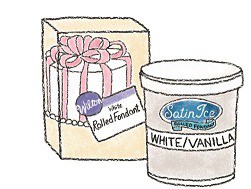 White rolled fondant.
You can make your own homemade marshmallow fondant, or, just use store-bought. I have to admit, I'm not crazy as crazy about the taste of fondant as I am over royal icing and frosting, but for a decorating surface, it can't be beat. Use it to top cookies, cupcakes, cakes and to make decorations. You can color fondant by kneading in drops of food coloring. Find fondant at the craft store, probably the Wilton brand, or, I prefer the Satin Ice brand at amazon.
Marshmallows.
The perfect canvas. Takes two seconds to open a bag, and you can use these for dipping in candy or chocolate or sprinkles. Draw on them with food writers. Put them on sticks. Find marshmallows in the supermarket.
Light corn syrup.
I use this as an edible glue to add sprinkles, quins and other decorations to marshmallows, cookies, or anywhere I need a little extra stick. Find corn syrup in the supermarket.
Confectioner's Sugar.
It may seem silly to add this to the list, as I'm not adding other ingredients, but I use a LOT of confectioner's sugar. My icing and frosting and cookie recipes all use it, so I buy it by the 2 pound bag. And I'm always buying it for fear of running out. This is also called powdered sugar or icing sugar outside the US. Find powdered sugar in the supermarket.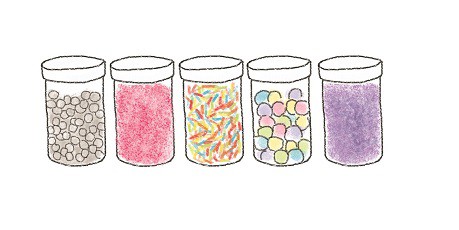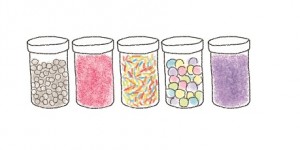 Sprinkles.
Any and all. I own tons of these. "Quins" are the little shape sprinkles, like stars, footballs, leaves, hearts, etc. I prefer a finer sprinkle, myself, or a sanding sugar. The smaller the grain, the more sparkle, I think. Find sprinkles everywhere, but the craft store should have what you need.
Cookie cutters.
Oh, cookie cutters. How I love you. For more information on building a cookie cutter collection and online resources, click HERE. My most often used cookie cutters are circles. Big or small, you can put anything on a circle. I use this set of cookie cutter circles so much, it was well worth the cost. Find cookie cutters in the craft store, many online shops, or at amazon.
Cupcake liners.
For cupcakes. Pretty self explanatory. Because baking cupcakes tend to bleed through the liners, I usually bake cupcakes in white liners, then pop them in more colorful ones for presentation (I don't remove the white liners). Find these in the craft store or online.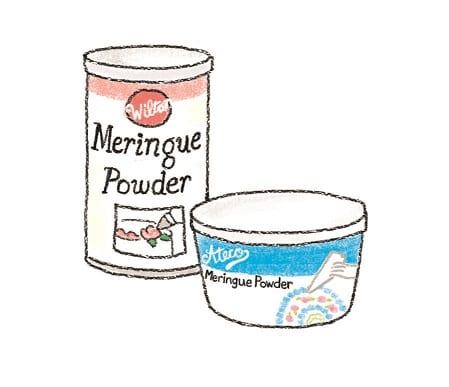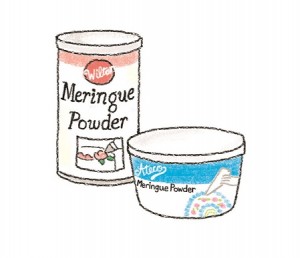 Meringue powder.
Meringue powder is the best for making royal icing to decorate cookies. It's safer than fresh egg whites, and you don't need to refrigerate your royal icing after use. Find meringue powder in the craft store, online stores or at amazon.
Parchment paper.
I always line my cookie sheets with parchment paper. Just makes things so much easier. And I line the counter with parchment or wax paper when working with food coloring or coloring fondant. Find parchment paper in the supermarket or craft store.
Dough scraper.
I heart my dough scraper! It's great for cutting out cookie sticks and squares. Mine has a ruler on the side, so I can measure cookie dough height (I'm a 1/4-inch high kind of girl) and other doughy things. Find dough scrapers at Sur la Table or online stores, or kitchenware stores.
Paint brushes.
I use little paint brushes to brush light corn syrup on surfaces when I'm sticking things, to paint food coloring on fondant or royal icing, and for all kinds of little things here and there. Find paint brushes at the craft store or online.
Rolling pin.
I wouldn't get far without this. Use it to roll out cookie dough and fondant. I do own this rolling pin, which is handy, as it has height guides. (1/8-inch is standard for cut-out cookies, but I roll 1/4-inch thick, as I roll fondant, and 3/8-inch is great for cookie pops), but now I just use my good old wood one, since I can usually tell heights by eye now anyway. Find rolling pins in any store that sells kitchenware, or online.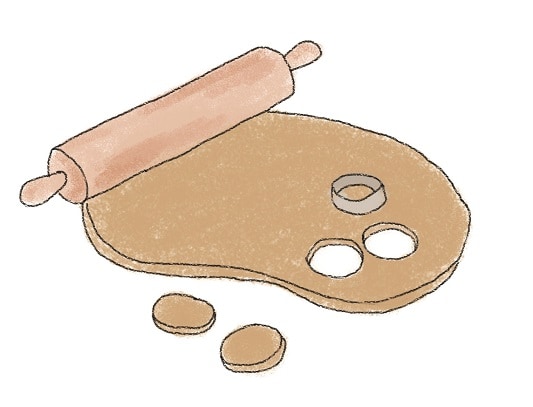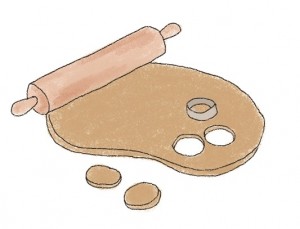 RESOURCES:
You may notice I say "Find at the craft store" quite a bit. Much of what you need can be found at your local craft store and local cake decorating supply store. Near me, we have Michaels or AC Moore. The craft store often offers a lot of Wilton products. You can also order from the Wilton site.
Other online shops I really like for supplies:
Sugarcraft.com
Country Kitchen SweetArt
NY Cake
Bake It Pretty
Layer Cake Shop
The Cookie Cutter Shop
Coppergifts.com
Off the Beaten Path
I'm in the US, but if you are not…
MakeBake.co.uk is based in the UK and ships worldwide. Find their site HERE.
AMAZON Links:

CRAFTSY LINKS
Wilton 12-inch 24 Count Disposable Decorating Bags
Satin Ice Rolled Fondant 2 lbs