Disclosure: *This post may include affiliate links. As an affiliate, I earn from qualifying purchases.


So yeah. I read teenage/young adult fantasy novels. Voraciously. And I'm proud of this. I studied and read and researched and wrote for years. I have an MFA in Literature and read and researched and wrote and read some more to get it. I have an MLA in Liberal Arts and studied literature at Oxford for a summer. I read Dickens, Woolf, Melville, Eliot, Austen, Bronte, Dickinson, Shelley (Mary and Percy). Oh boy, I read so much. And then I went years without reading because I was so exhausted by reading. And then I found young adult fantasy novels. And I can't stop. If you're looking for well-written, interesting, exciting page turners, here are some of my favorites. Lose yourself in them, please. I've even binge-watched so much less Netflix since finding these. And if you have any more suggestions for me, I'll take them!
UPDATE: I've been reading so much since I first wrote this post, I have more to add! So the number will be above 12. Below I have affiliate links to the books, but what I do is download a sample from the first book of the series to read on my kindle. I get a good sense from the sample if I'll like the book and want to commit to the cost.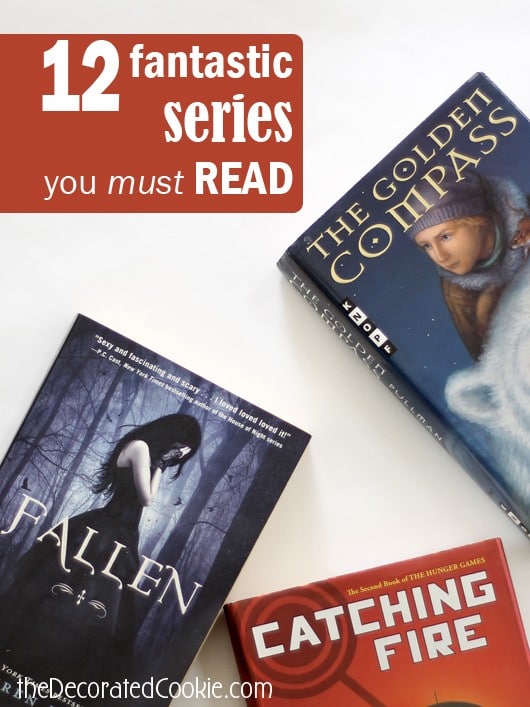 My favorite books for twenty years: His Dark Materials, by Philip Pullman (labeled 'children's,' not YA, but I have to mention them)
My next favorite favorites: The Graceling, Bitterblue and Fire, by Kristin Cashore
The Hunger Games trilogy, by Suzanne Collins, of course
The Divergent Series, by Veronica Roth
The Mortal Instruments (6 books), by Cassandra Clare
The Birthmarked Trilogy, by Caragh M. O'Brien
Eve, Once and Rise (3 books), by Anna Carey
The Guardian Trilogy, by Lauren Falter
The Girl of Fire and Thorns trilogy, by Rae Carson
The Infernal Devices, by Cassandra Clare
Princess Academy, by Shannon Hale (I need to read more of hers…)
The Razorland Trilogy, by Ann Aguirre
Matched trilogy, by Ally Condie
The Chemical Garden Trilogy, by Lauren DeStefano
Malediction Trilogy, by Danielle L. Jensen
Air Awakens Series, by Elise Kova
Throne of Glass series, by Sarah J. Maas
The Orphan Queen (2-book series), by Jodi Meadows
The Lunar Chronicles series, by Marissa Meyer
The Legends of Muirwood series, by Jeff Wheeler
Daughter of Smoke and Bone trilogy, by Laini Taylor
BONUS BOOK: Outlander (8 book series), by Diana Gabaldon (this one is definitely adult, not YA, but oh so good)
I want to read them again now that I've typed them all out.
Not ready to read? PIN FOR LATER: