Disclosure: *This post may include affiliate links. As an affiliate, I earn from qualifying purchases.


Classroom Valentine's Day cards idea: Horse Valentines cards with free printable.
horse valentines cards
OK, fellow moms at my daughter's elementary school, I'm stepping up my game with these horse Valentines cards.
This year, I am not running to Giant on February 13th to dig through the Valentine's Day card spoils no kid wants.
I spent SEVEN, yes, SEVEN dollars on this year's Valentines. That's double what I spent last year. Oh, but I didn't stop there. I even made my very own printable for my, I mean, for Maeve's Valentines.
And we're tying on these horses with the fancy ribbon I have too much of in the drawer.
I think this is what being a pin-worthy mom is like. I don't expect to maintain this level of pin-worthy commitment, mind you, but for today, I'm pretty dang proud of our DIY Valentine's.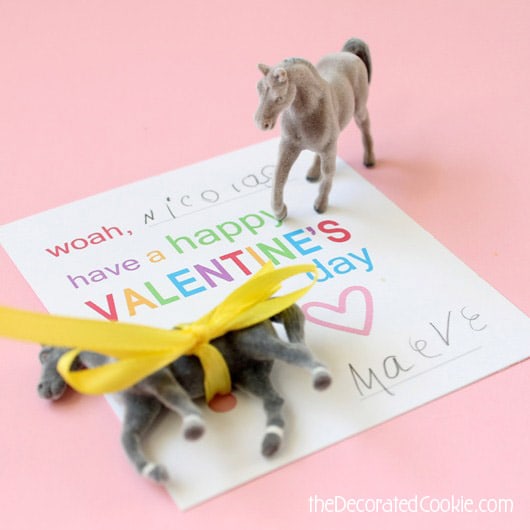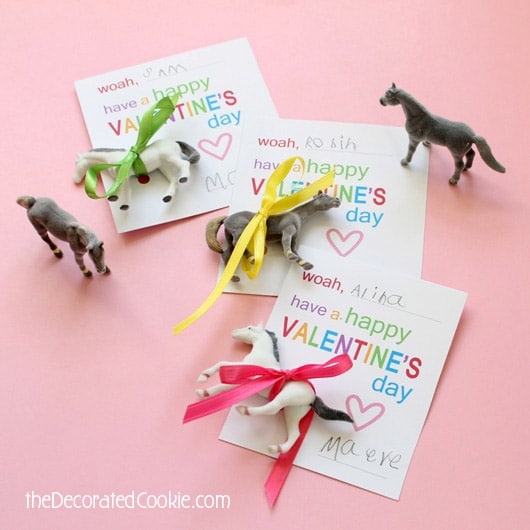 where to find toys
I got a set of 24 little toy horses at Oriental Trading. That's where the 7 bucks was spent (Sorry folks, when I ordered it was free shipping).
But you can use any little toy horses. (I have links to some at amazon prime at the end of this post.) These shown take up about 2 square inches of the card.
The rest are supplies I had at home. I had several ideas that relied on Oriental Trading's ridiculously low prices on cheap(ly-made) bulk party favors.
Scrolling through them with my daughter, we didn't need to go beyond the horse idea. I've mentioned her horse obsession before.
more Valentines Day cards ideas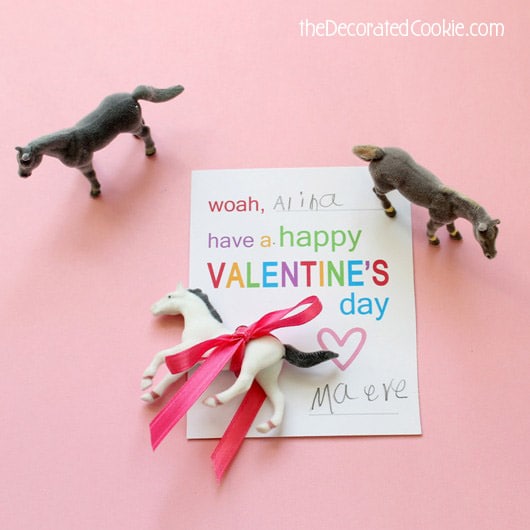 how to make horse Valentines cards for classroom parties
you will need
toy horses (about 2 inches)*
THIS PRINTABLE
letter-size cardstock paper
color printer
scissors or paper cutter
hole punch
ribbon
Print out the printable on cardstock paper. Cut out at the gray lines. Fill in the lines for "to" and "from." Punch two holes vertically, with about 1/2- inch between them. Thread the ribbon through the card and tie to a horse.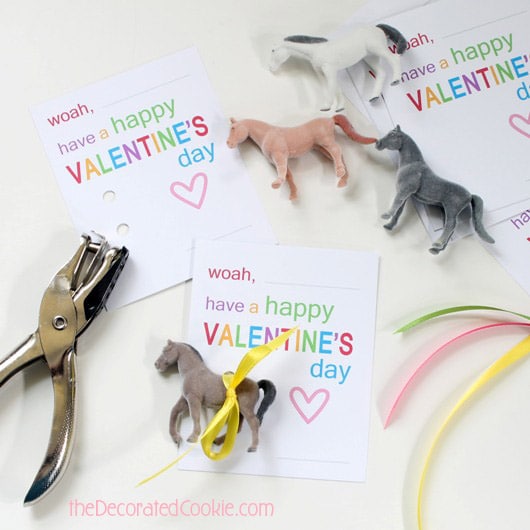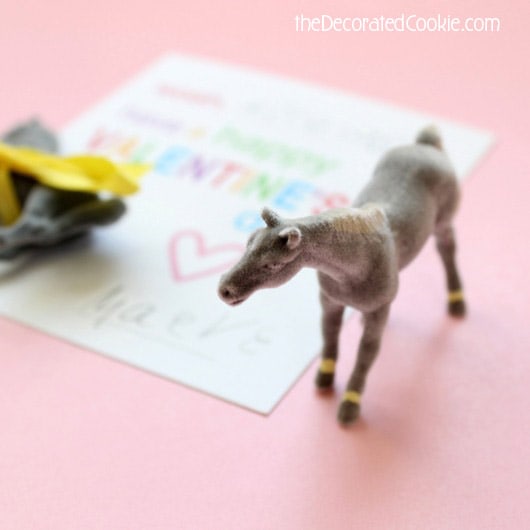 *I found the horses shown at Oriental Trading. Below are a few options from Amazon Prime. Note the middle ones are a bit bigger, so may cover up more of the card.