Disclosure: *This post may include affiliate links. As an affiliate, I earn from qualifying purchases.


Want to start a blog? You're in the right place! Read on to learn everything you need to know to get started, from a 13 year veteran food blogger.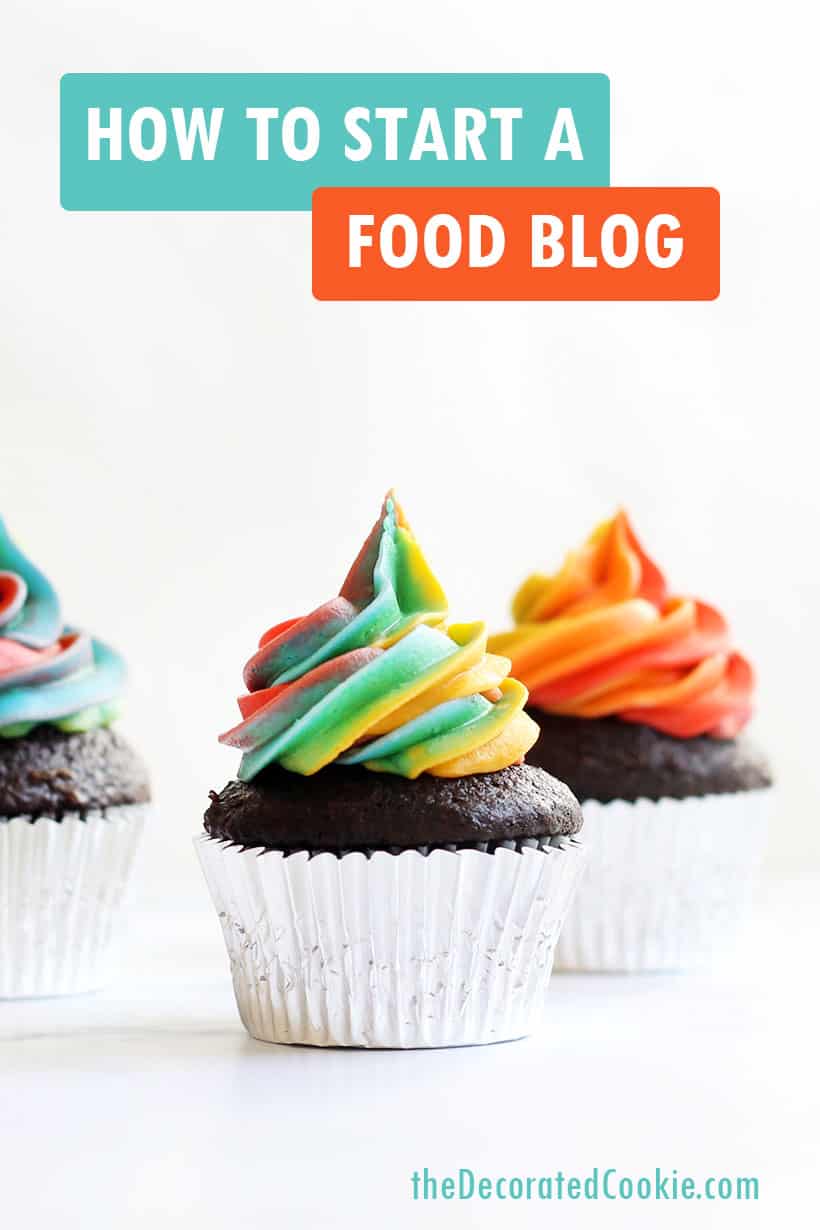 how to start a blog
Earlier this year, I gave a presentation at the virtual bake fest conference on how to start a food blog. The information may be valuable to others who want to start in the world of blogging but have no idea where to start!
While the presentation was created with food blogs in mind, you can certainly apply the how-tos to a travel, lifestyle, or craft blog or other topics.
There is no way this post is fully comprehensive, and you will learn much, much more over the months and years, but if you are lost, this should give you direction.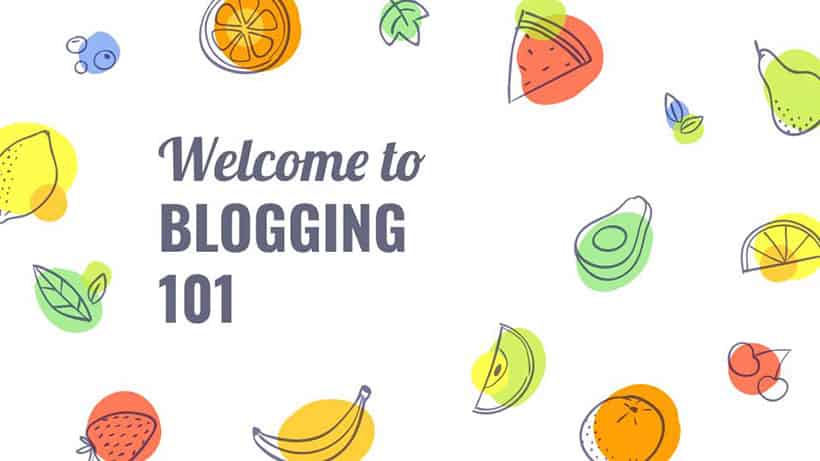 my blogging history
I started The Decorated Cookie, a blog about food crafts and edible art (among other things), way back in 2008, a year after I published my first cookbook. (Sugarlicious came a few years later.)
I've made my share of mistakes, especially as there was so much we simply didn't know back then. A few years ago, I started two niche sites with my business partner, and we've found success starting from scratch with HowToMakeCerealTreats.com and HowToMakeEasyFudge.com.
You will be introduced to:
Buying a domain and finding a host.
Building a site on WordPress.
Intro to SEO
Monetize your blog
Resources and where to learn more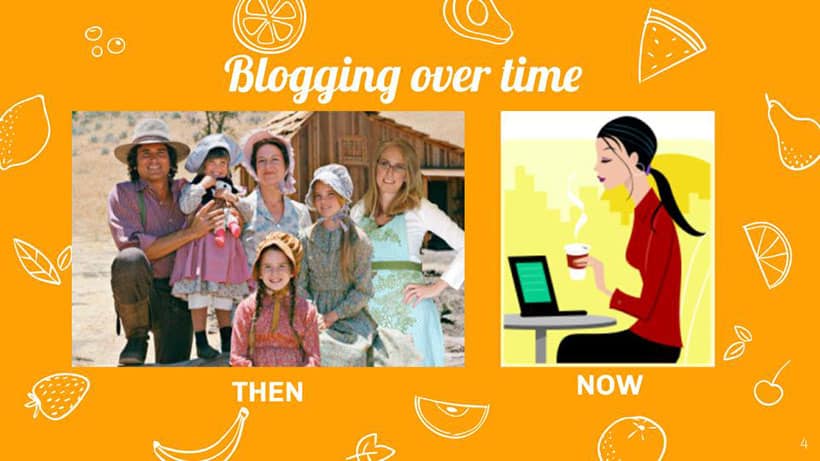 blogging over time
Yes, that's me on the homestead in 2008 starting a blog (on blogspot, no less!) with no clue what to do. Back then, blogging was essentially on-line journaling.
We didn't pay attention to how to rank on google. We loaded our sites with huge images. We told long stories that had nothing to do with the food we were sharing.
And… social media DIDN'T EXIST! Oh, how time has changed.
Today, blogging is very much a business (the picture on the right is "savvy business woman.") Now, people complain when they have to scroll past a story to get to a (free!) recipe, sigh.
So you're entering the blog world at a good time. There are countless resources out there so you start and build your site the right way.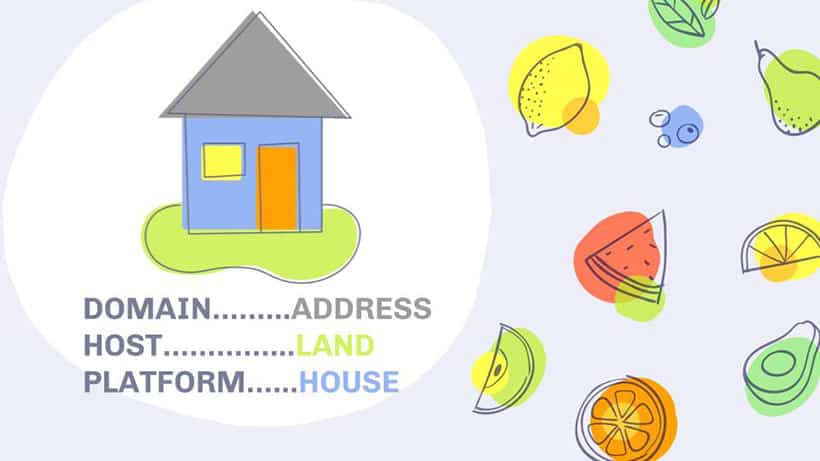 getting a domain and web host
My friend, Sherry, uses this metaphor to explain what a domain, host, and platform are in blogging.
TIP: For a fantastic course that covers every detail in starting a blog, take Sherry's course here: How To Start a Blog the Easy Way.
The DOMAIN is your address. The HOST is the land on the internet where you'll build your home. The PLATFORM is the home you get to decorate.
And that decorated home is your BRAND, it's what you build and design and create that is unique.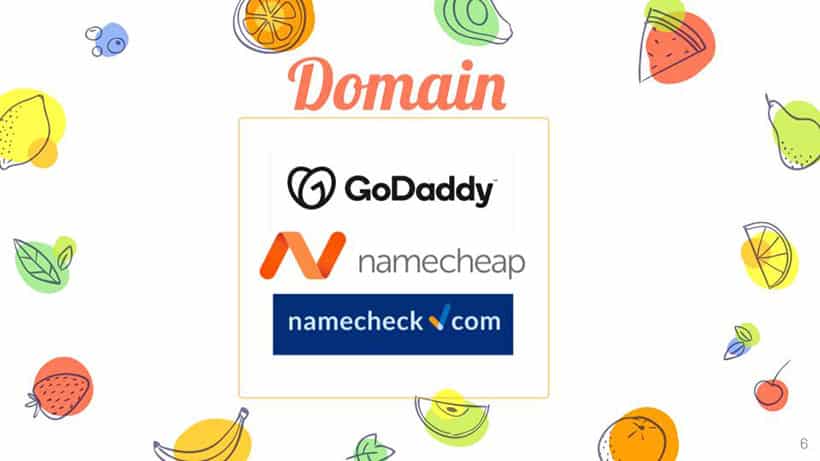 your domain
First, you'll need to name your blog and buy your blog address. Most domains are inexpensive, about $20 a year. You can purchase domains from GoDaddy.com or NameCheap.com.
Spend time thinking of your name. There's a good chance the url address you want first will be taken, so you may need to do some searching. You'll have more options if you go with an alternate extension, such as ".tv" or ".co" but I'm a fan of sticking with .com." Try to avoid numbers and dashes in the name.
You'll also want to head over to NameCheck.com to be sure the social media handles that match your blog name are available BEFORE purchasing your domain.
A quick note about trademarking: Trademarking your blog name is very important. I hired a lawyer to get my trademark. It costs about $1000 and takes up to a year. When you're first starting out and not earning income, it may not be feasible, but do keep it in mind as you grow.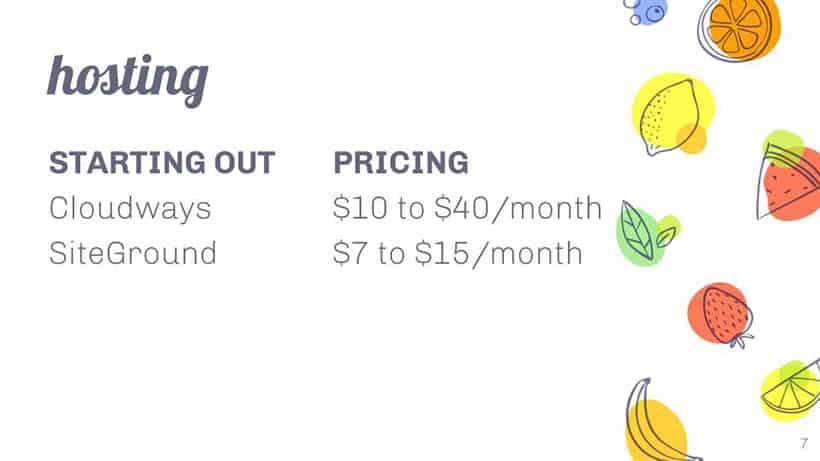 your host
The host is the company who puts your blog on the internet. Everything is saved by the host.
A good host is worth the investment because it will matter for how fast your site loads, if you have 24/7 access to support, and so you don't crash if you have something go viral
If you're not yet monitized, it will be difficult to invest a significant amount, so choose a less expensive host. I recommend Cloudways or SiteGround.
You can start, with limited space, for $7 to $20 a month. (We use Cloudways for our niche sites. If you take Sherry's blogging course, she walks you through SiteGround.)
Once you start to grow, other recommend hosts are Wpopt, Agathon, and Big Scoots. By the time you decide to upgrade hosts, you should be part of a food blog community and can get feedback from others to help you choose.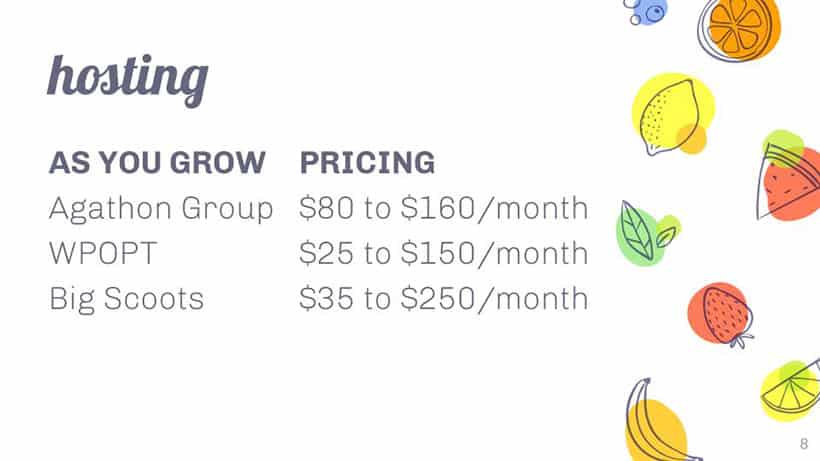 your platform
WordPress.org is by far the most-used platform for blogs, and it's a wordpress-friendly world. I highly recommend using WordPress. I have found even if someone starts on a different platform, they end up migrating to WordPress.
WordPress offers tons of free themes (the design of the blog). They also offer free hosting, but I don't recommend it. You will have "wordpress" in your web address and they will own your content.
Once you get WordPress, you access your dashboard at: sitename.com/wp-admin.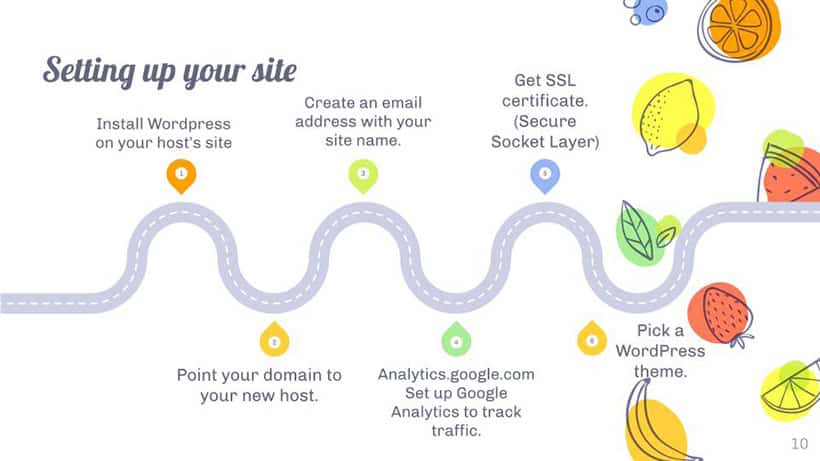 getting started checklist
Choose a host and sign up for a plan. Then install WordPress through your host's site.
Now you have to tell your domain where your host is. This, again is done on your host's site through "name servers," or "DNS servers."
Create an email address with your domain name (eg. name@thedecoratedcookie.com). This is also done at your host's site. It's optional, but does look professional to have your own email. I access meaghan@thedecoratedcookie.com through my gmail.
You'll need a SSL (secure socket layer) certificate so your site is secure. That means your domain will start with https:// instead of https:// and you'll have a lock symbol next to the address. This is done on your host's site. Some hosts will do this for you.
Set up Google Analytics. You'll get a code for a unique tracking number to add to your blog so you can go to analytics to track your traffic, learn how many sessions you have per month, and from where traffic is coming (organic google search, facebook, pinterest, etc.). Here is a FREE COURSE on how to do this.
PICK A THEME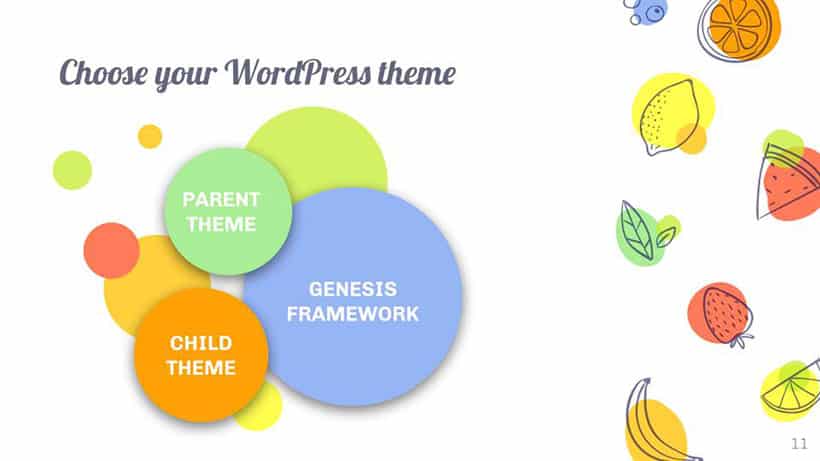 WordPress themes
These terms are a bit confusing (even to me), so I'll introduce you to them. But don't worry too much about what does what.
The theme framework is the foundation called "genesis." "Parent theme" is a WordPress theme built on this foundation. "Child theme" are ways to make small changes.
Focus instead on choosing a theme.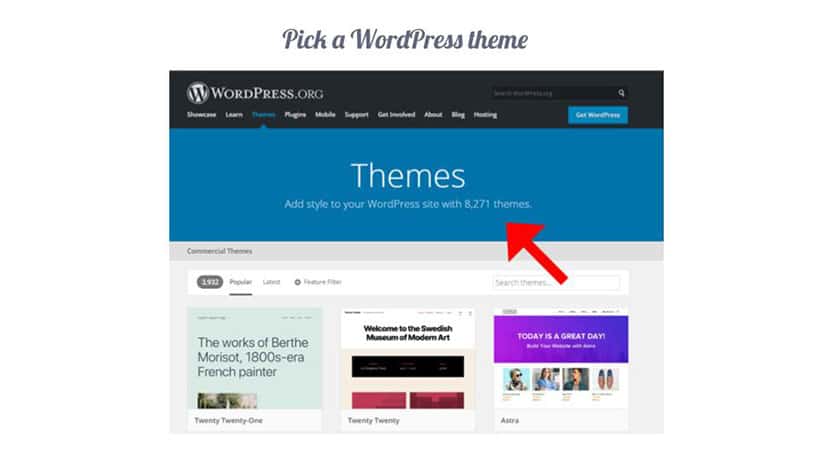 If you visit the WordPress site, you'll see you have over 8000 to choose from. Yikes! My one recommendation is that you make sure whatever theme you choose has been recently updated.
This site lists a bunch of recommended FREE WORDPRESS themes. (Note, I don't have familiarity with all the themes, so you should do research.) Once you pick a free theme, you can find it on your WordPress dashboard under "Appearance."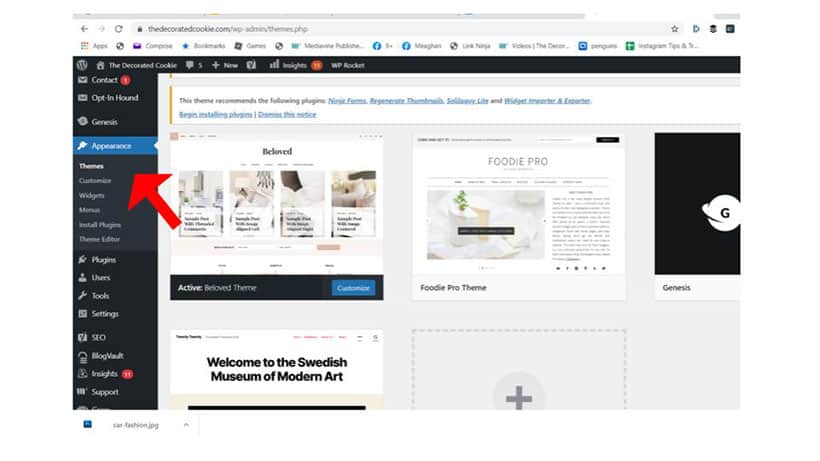 Our site, HowToMakeCerealTreats.com uses Foodie Pro which costs $75. You may also purchase the Feast plug-in (more on plug-ins later) to have access to five different themes. This theme is simple and fast and well-recommended.
This site, TheDecoratedCookie, is using the Beloved theme from Restored 316. It costs $149 (although it was $75 when I purchased).
Important elements of a theme: Social media buttons, a menu across the top, and a search bar.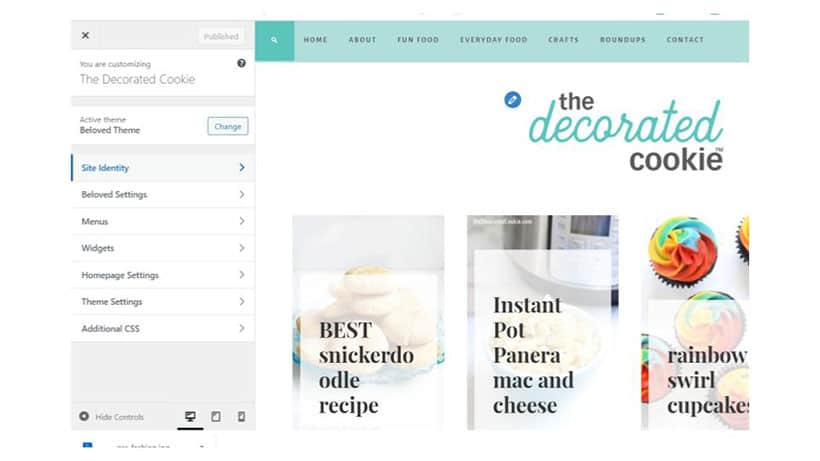 Under "Appearance" in your wordpress dashboard (again, you access the dashboard at yoursitename.com/wp-admin) you'll also find "Customize," which let's you choose fonts and colors, and where you can build your menu for the top of your blog.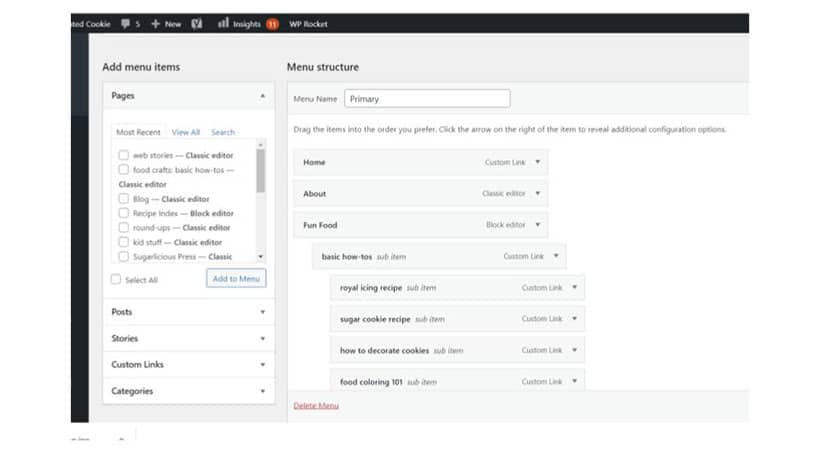 categories vs. tags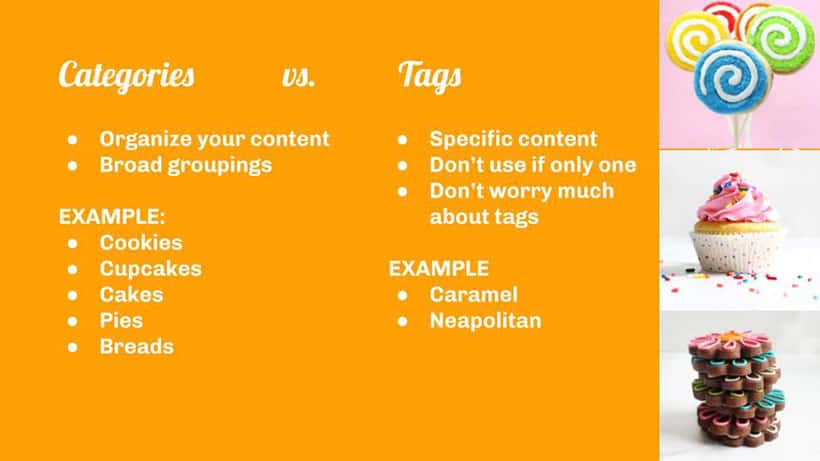 When creating your menu, you'll need to choose categories. Spend time on organizing your content. Not only does it help google find you, but you want to keep visitors on your site, so navigating easily from page to page is necessary.
Categories are broad groupings, such as "cookies," "cupcakes," "cakes," etc.
Don't worry too much about tags. Our niche sites don't even use them. Tags are more specific terms to group similar recipes. For example, if you have a lot of "neapolitan" themed desserts.
Never just add a tag for only one post. As you're starting out, you might not want to use tags at all until you have a series of posts to use a tag for.
Pages vs. posts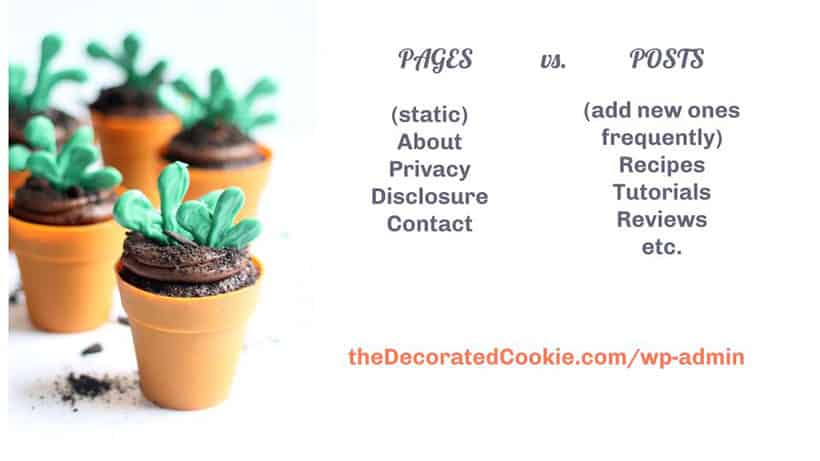 Pages on your blog are static, meaning they rarely change. Posts are what you'll create for your blog (3 times a week is a good number if you're able) are things like recipes, tutorials, reviews, etc.
The pages you MUST have on your blog:
Privacy page (a legal page about how your site collects info, you can find samples online)
Disclosure page (often on the same page as privacy, this discloses if your working with affiliates or brands)
About me page to tell your readers who you are.
WordPress dashboard
It won't make much sense to share too much about how to use the dashboard until you have it in front of you, but I'll give a brief overview.
For more information, take the How to Start a Blog the Easy Way course. This is also a great blog post about using wordpress.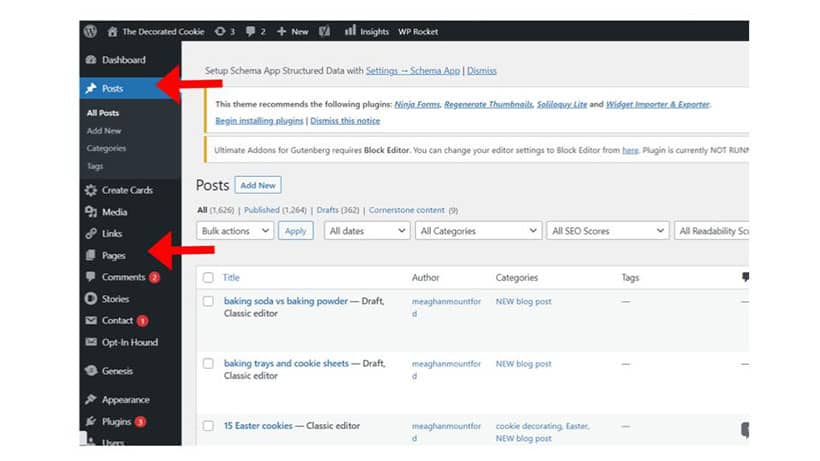 You can see on the dashboard the option to create a page or a post.
widgets
You'll also notice, under "Appearance," something called "Widgets." These widgets are how you'll design what your blog looks like. For example, a widget may display four photos across the page. Or it may display a newsletter.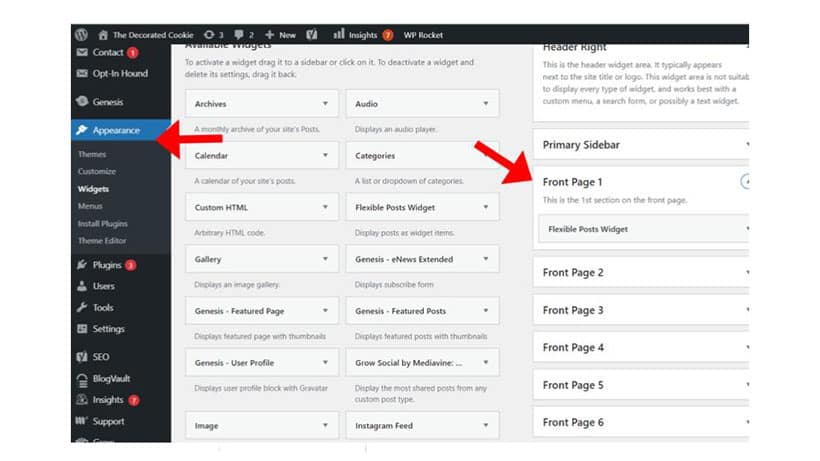 The "Front Page 1" widget you see here, corresponds to the images across the top of my blog.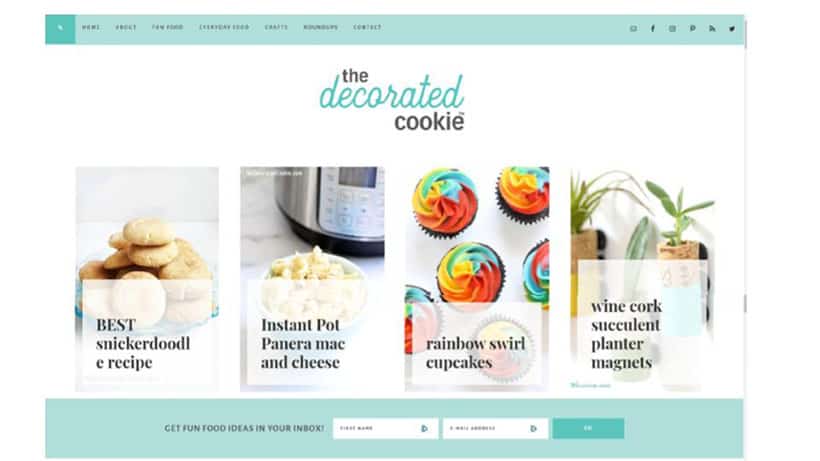 Plug-ins
Plug-ins (which you, again, install and access on the left side of your dashboard) are bits of code that add things to your site so YOU don't have to do the coding.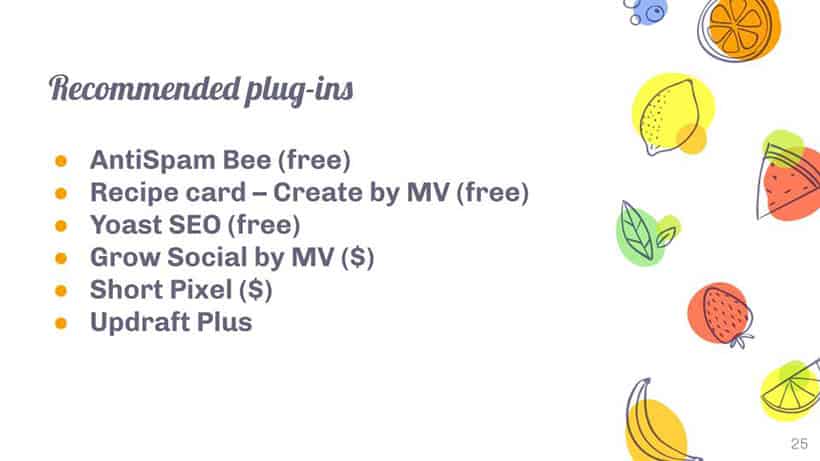 Choose plug-ins wisely, as they can weigh down and slow your site. Every blogger has different opinions on which plug-ins are vital. I recommend:
writing blog posts
WordPress lets you create blog posts using "Gutenburg blocks."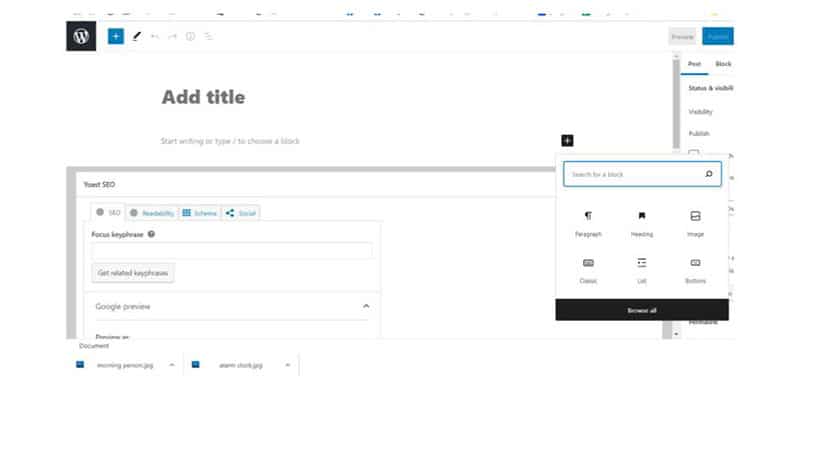 For each block you can create a heading, paragraph, video, image, buttons, lists, tables, etc.
TIPS on adding images and video:
I use photoshop to edit my photos, but Picmonkey is a great resource. Keep images under 200 kb. Your theme will instruct you what size pixel width photos should be.
After you get an ad network, you can load your videos to the ad network and get code to insert in your blog post. Before that, do NOT load videos directly on your blog. Load them to youtube first, and then get an embed code.
SEO–search engine optimization
Oh, SEO. It's been all the buzz in food blogging for the past few years.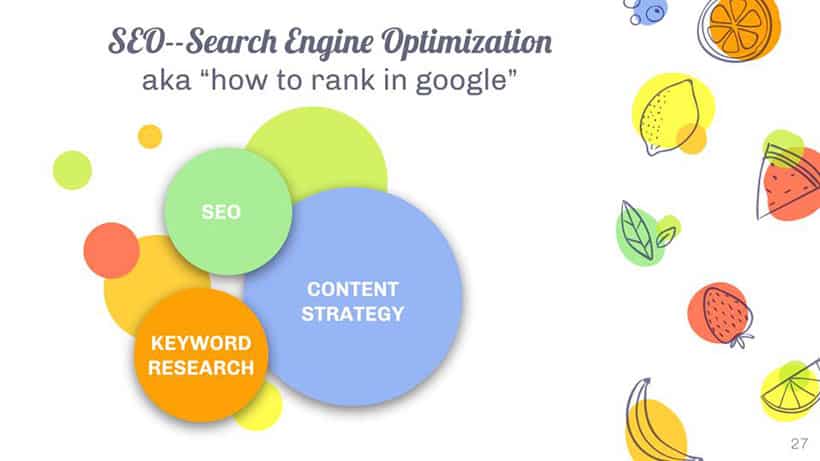 Optimizing your site so google can find you is extremely important. Your goal is to have posts ranking on the first page of google. This will require a content strategy and keyword research.
Back in my Little House days, we didn't know anything about SEO. I made rainbow marshmallows and Eiffel Tower cupcakes. No one searches for these things.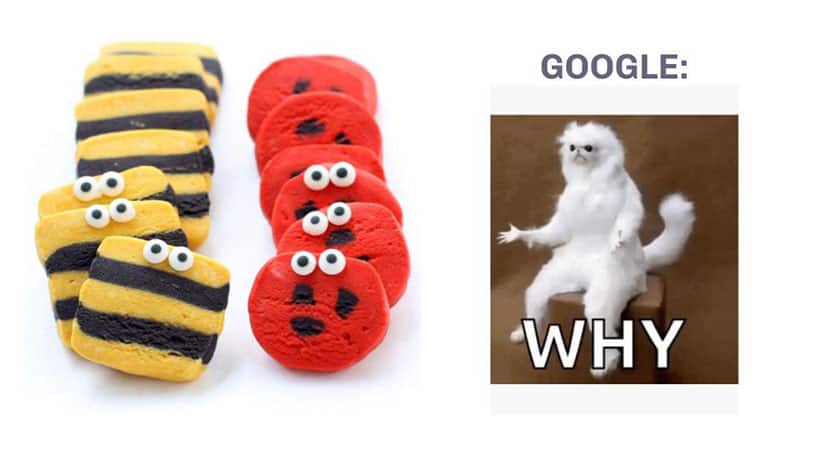 And no one searches for "bumble bee and ladybug slice and bake cookies."
So it's smart to create content people are actually looking for. For example, I used to have a royal icing recipe buried on a page full of recipes. Royal icing has a search volume of 50,000 people per month. I missed out on all that potential traffic.
"What's the difference between baking soda and baking powder?" 18,000 people a month are looking for that answer.
So think of your content as providing the people of the world with the answer to their questions. And while it's useful to choose content people are looking for, you still can infuse your spin and creativity for your brand.
You can still create fun posts, such as ladybug slice and bake cookies, as they can bring in a lot of traffic from social media.
Keep in mind, newer blogs will have to compete with established blogs. It's not likely to get on the first page for "chocolate chip cookie" too quickly. However, our BEST Rice Krispie treat recipe, which has 135,000 monthly searches, is on the first page of google and it only took about a year.
how to do keyword research?
There are quite a few tools to help you do keyword research. (Ex., "royal icing" would be the keyword.)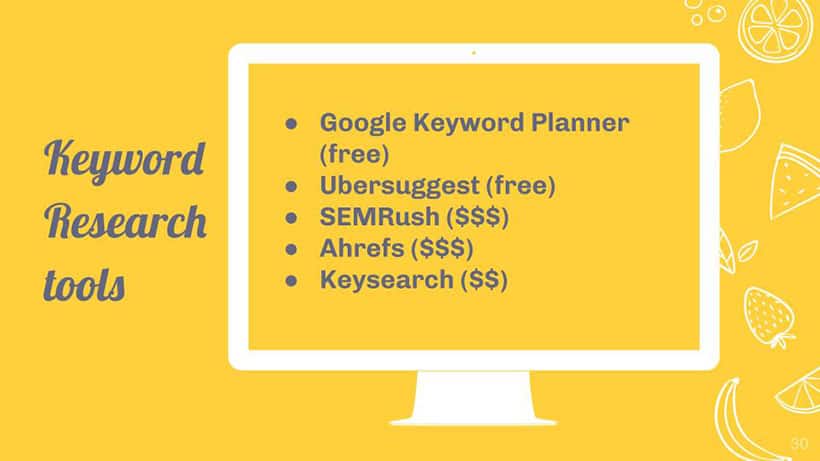 how do I write an SEO-Friendly blog post?
There are week-long conferences JUST talking SEO strategy. Experts exist just to audit the SEO on your blog. There's no way I can cover everything, but here are some examples of an "Seo-friendly blog post."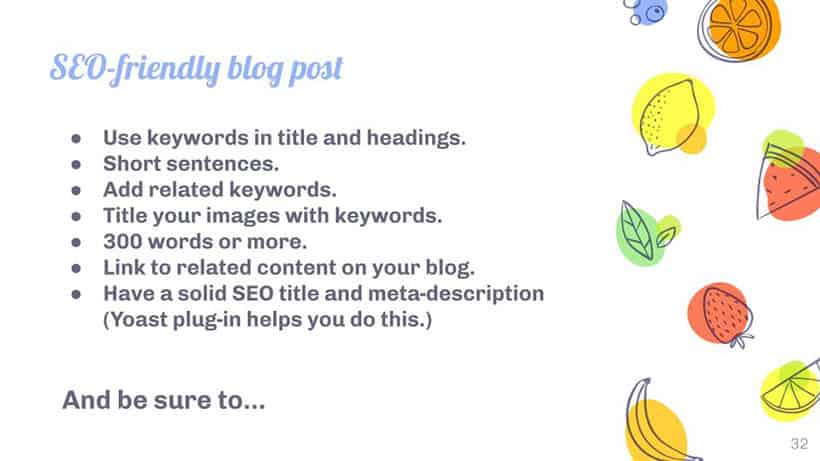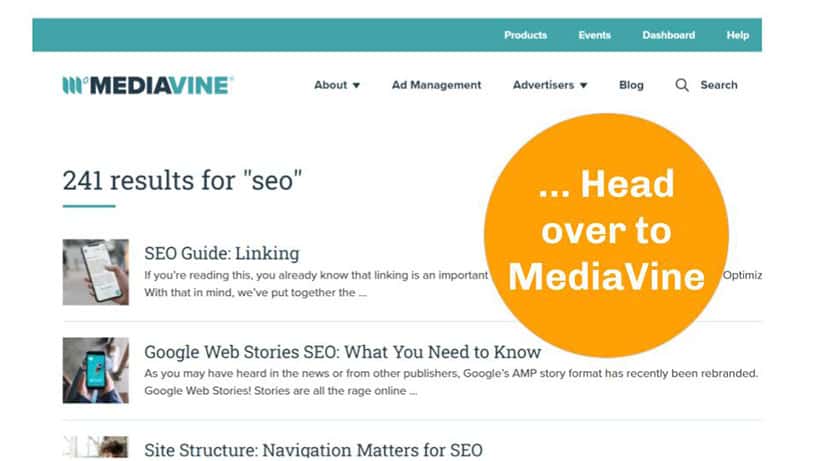 But the best resource to learn more?
Mediavine has tons of blog posts on SEO and everything you need to know. They also have a Theory of Content podcast. I urge you to spend time watching the videos.
how to monitize your blog
Finally, we're getting to the $$$$! There are several ways to earn money food blogging.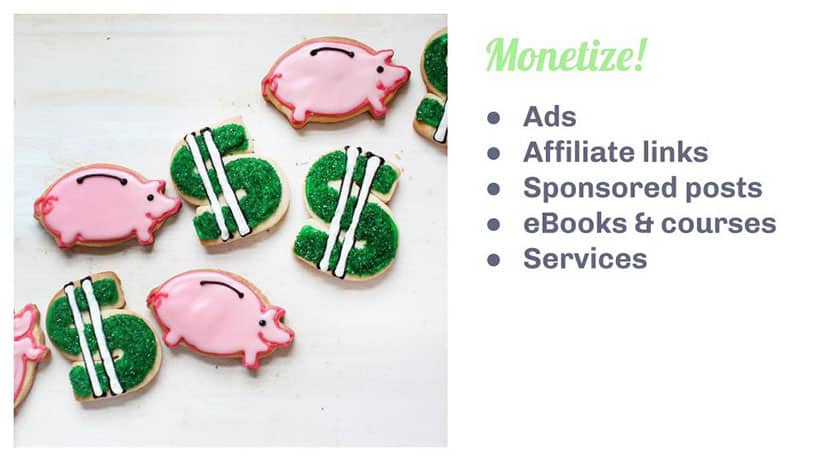 affiliate links
Affiliate links are links unique to you that if clicked and purchased, you get a small percentage. If you have a particular brand you love, see if they have an affiliate program.
Popular programs include amazon, RewardStyle, and ShareASale.
ALWAYS follow the disclosure rules.
sponsored posts
Sometimes, brands will pay you to write about their product and share on social media. For example, I made edible flower cookies for Nielsen-Massey, snowflake hot cocoa for Wilton, and a fruit roll rose bouquet for Welch's, to name a few.
eBooks and cookbooks/merchandise
Create eBooks to sell, or self-publish cookbooks through amazon. For example, on our HowToMakeEasyFudge.com site, we sell a fudge cookbook.
courses
Are an expert in a cooking style? Create an online course. I sell a cookie decorating for beginner's course.
services
Have skills? You can offer photography, video editing, recipe development, and more services.
Advertising
Ads are one of the best and biggest means of monetizing your blog, so this gets it's own section.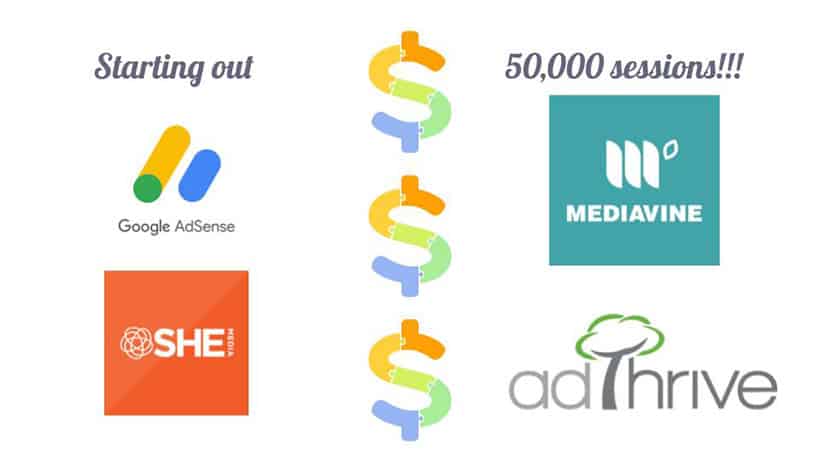 When you're first starting out, there are options to earn income. However, keep in mind you'll earn very little per day, so you need to weigh whether you want ads (which can slow your site and hurt user experience) at all.
If so, you can always start with google AdSense. SheMedia is a company that accepts newer bloggers. However, they do require a contract, so if your traffic increases and you want to change companies, you'll have to wait out the contract.
Once you have 50,000 sessions a month, you can apply to bigger ad companies. The two main go-tos are Mediavine and AdThrive. (I have been with Mediavine since they were a new company back in 2015.)
how do blog ads work?
Your earnings are based on Rate per Mille (RPM), or the dollar amount companies are willing to pay per 1000 impressions (not clicks). The RPM varies greatly. It can be as low as 15 bucks or in the 50s. On average, at 50K sessions, you'll likely make 30 to 50 bucks a day.
But it only goes up from there. There are absolutely bloggers making 6 figures a month.
So get started!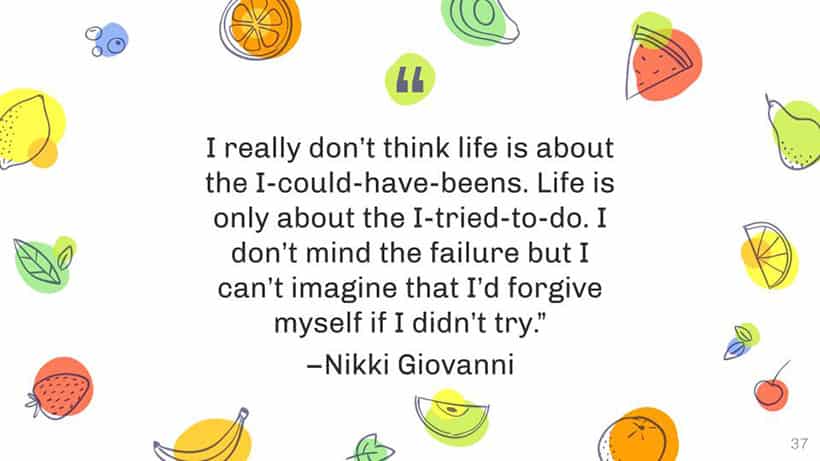 Huge thank you to SlidesCarnival for providing the awesome artwork for the slides!