Disclosure: *This post may include affiliate links. As an affiliate, I earn from qualifying purchases.


how to make flower cookie pops for spring or Mother's Day
flower cookies
'Tis the season for simple flower cookie pops.
Spring, Mother's Day, birthdays, parties, I could go on with the number of uses for simple flower cookie pops… This particular arrangement I donated to an auction benefiting the DC Diaper Bank, a kick tushy organization that provides expensive diapers, ie. "health and happiness," to families in the metro DC area.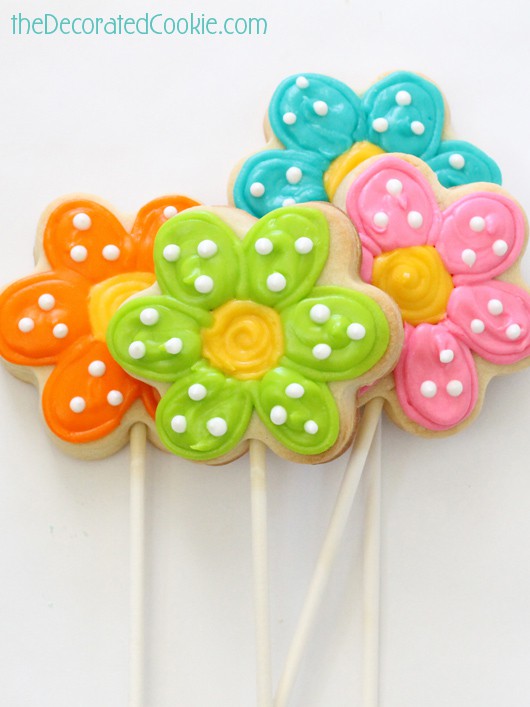 When in doubt for donations, I choose flowers.
They are pretty, simple, and can be used for anything.
I also include instructions on how to freeze cookies, so the recipient doesn't need to use them right away.
how to freeze decorated cookies
And just in case you forgot, here's a reminder on how to freeze cookies: Place the cookies (you can keep the cello bags on them, if they are wrapped) in gallon-size, freezer-safe Ziploc bags.
Freeze. To thaw, remove from the freezer, but keep IN the Ziplocs. Let thaw completely at room temperature before removing from the Ziplocs. That's it. It works super duper well for me.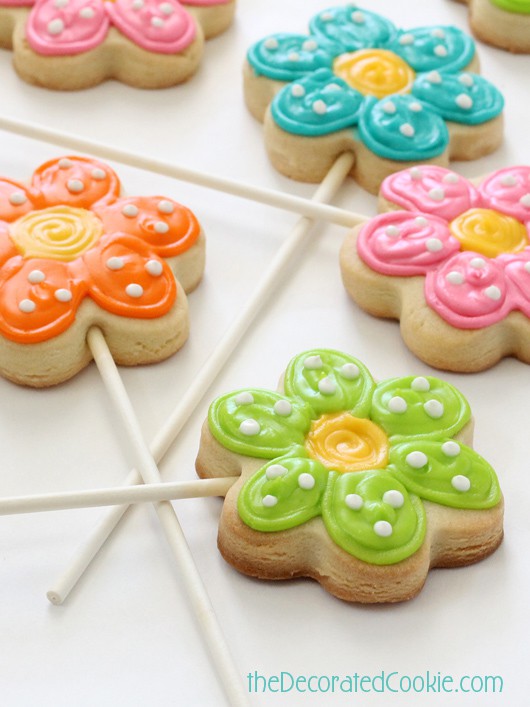 more flower cookies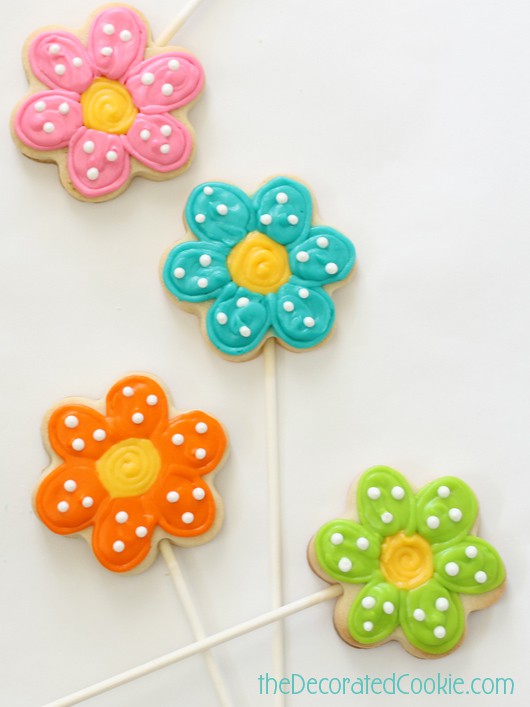 how to make simple flower cookie pops
you will need:*
cookie dough
royal icing
flower cutter
lollipop sticks
food coloring (yellow, pink, orange, blue, green and white used here)
disposable decorating bags
couplers
decorating tips (sizes 3 and 4)
rubber bands
*Find the cutter, lollipop sticks (6-inch and 8-inch used here), decorating bags, couplers and tips at the craft store. You'll also find cello bags, ribbon, containers, tissue paper and Styrofoam blocks at the craft store, if you are making an arrangement. For food coloring, I suggest Americolor Soft Gel Pastes (Bright White, Electric Pink, Egg Yellow, Orange, Electric Green and Sky Blue used here).
For basic cookie decorating how-tos, CLICK HERE. For more cookie decorating recipes, click here. If you need vegan cookies and icing recipes, click HERE.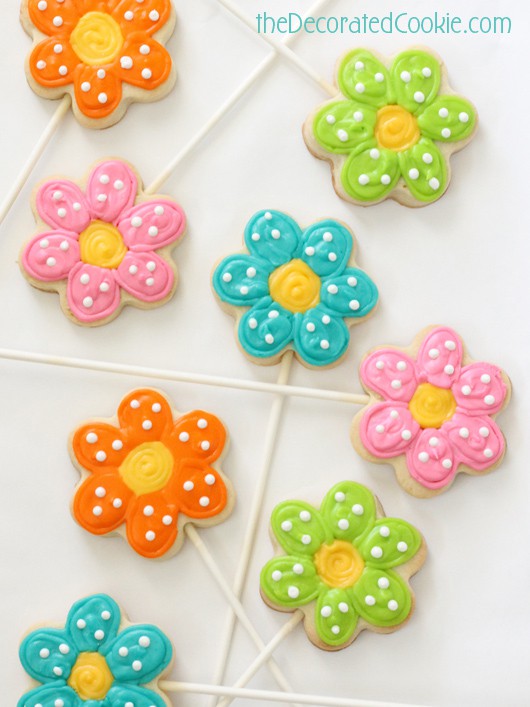 step one: bake your cookies.
Prepare cookie dough according to the recipe, chill it, roll it out about 3/8-inch thick, cut out flowers, insert sticks and bake. Let cool completely. For detailed how-tos on making cookie pops, CLICK HERE.
step two: make your icing.
Prepare royal icing according to the recipe. Divide and tint your colors. Prepare decorating bags with couplers and tips. Fill with the icing and close tightly with rubber bands.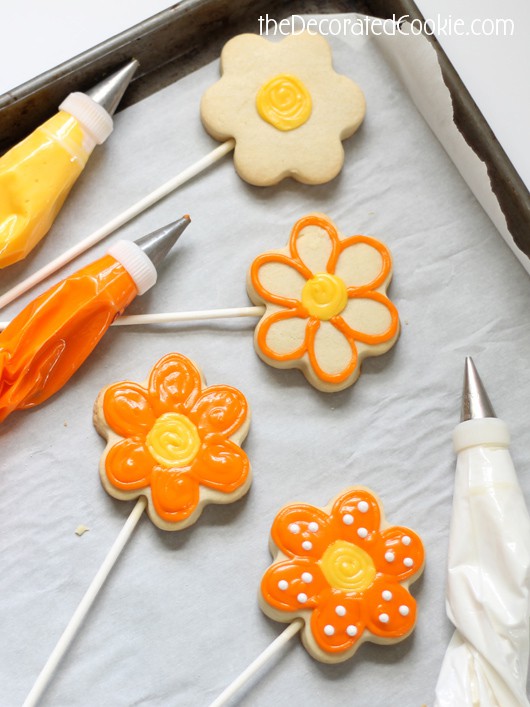 step three: decorate your cookies.
Pipe a spiral in the center of the lower in yellow with a size 4 tip. Outline the petals with a size 4 tip. Pipe to fill the petals with the same color and let set about 15 minutes. Pipe dots on the flowers with white using a size 3 tip. Let dry overnight.
how to make a cookie arrangement
First, I wrapped each cookie with a cellophane bag and ribbon.
Then, I wrapped a Styrofoam block in tissue paper and shoved it (tightly!) into a container. Then I inserted the cookie pops. That's it.
For more information on making cookie arrangements, click HERE.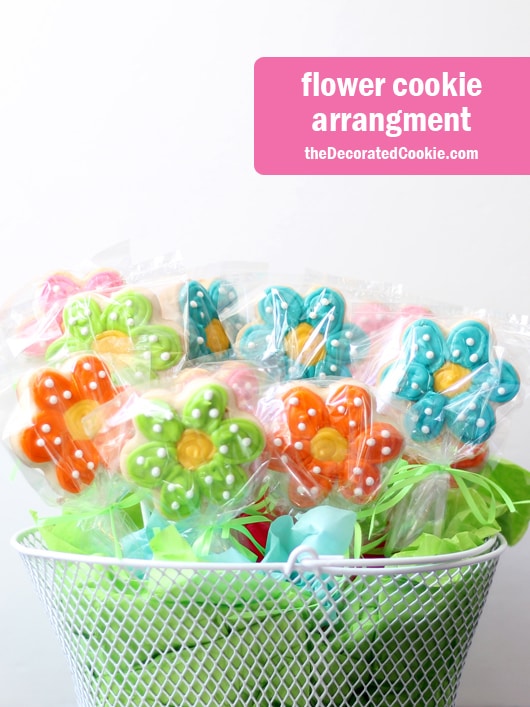 SUPPLIES: